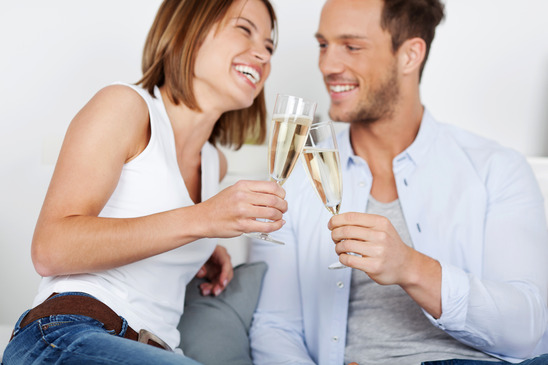 Bringing your new date home for the first time? It's almost like an audition. Will you both pass those judgmental tests? Make a good impression on your date by doing these five things before the big evening arrives.
Clean Up (Not too Much)
Nothing is more of a turnoff than walking into a pigsty. A messy space shows you don't take pride in your home, and your date may question your personal hygiene as well. An unclean, messy and unorganized home can keep you from a kiss and a future relationship. Also, don't clean the place up so much that it looks pristine and unnatural. You don't want to appear like you're trying too hard to be impressive or you're extremely uptight. Find a natural balance between being a disgusting slob and having obsessive-compulsive disorder to express that you also live a balanced life.
Create an Inviting Scent
Set the scene for romance. Eliminate unpleasant odors like an indoor cat litter box and fill your home with an appealing unisex scent before your date arrives. Go for sexy scents both genders are drawn to, such as citrus, sandalwood, patchouli, or vanilla. Lighting scented candles or spritzing essential oils around the place will please the senses and set the mood.
Serve Romantic Food & Drinks
Delicious fare and drinks are essentials as you get to know each other better on your home turf. Stock up on refreshments you know your date likes. And keep romantic treats on hand if the date starts to get intimate. Serve chocolate, fresh fruit and fancy dip like spinach and artichoke with sliced sourdough bread. Cheers to champagne.
Make Sure Your Pets Will Behave
Just like a clean personal space, a pet is another reflection of you. It is important to work with your dog when you are home alone so that you can both be on your best behavior for your date. An attention-seeking dog can really dampen the mood and kill a romantic atmosphere.
Remove Photos of Old Flames
Give your home a quick assessment and make sure there are no signs of a former flame, such as hanging framed photos of a past relationship or a decorative souvenir from a vacation you took with your ex. You don't want your date to feel like there's a person from your past who still has your heart. You're trying to move on, after all, and hopefully with this one. Keep your home a space free of past heartache and romantic baggage.
Latest posts by Ragna Stamm'ler-Adamson
(see all)