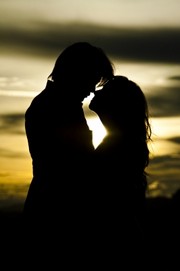 Kissing can do all sorts of things to your body. Your blood pressure rises, your breath accelerates, your heart beat goes faster, it lowers stress, burns calories and your brain emits endorphins. But why do we kiss?
The Roman poet Lucretius saw it as an attempt to literally merge.
Swiss psychiatrist Carl Jung had a more basic explanation. According to him kissing originated for the purpose of transferring food, just as with birds.
Sigmund Freud based kissing on sex and a mother-oriented obsession. According to him it was an egocentric tendency to return to the mother's lap.
Albert Einstein was quoted as saying "Any man who can drive safely while kissing a pretty girl is simply not giving the kiss the attention it deserves." Interestingly enough Einstein never had a car and didn't know how to drive.
Mae West said about kissing "A man's kiss is his signature."
A Chines proverb quotes "Kissing is like drinking salted water. You drink, and your thirst increases."
About two-thirds of people tip their head to the right when they kiss.
We'd love to hear your thoughts on kissing. When was the last time you had a great kiss? What makes a kiss great? How much does a kiss say about someone?