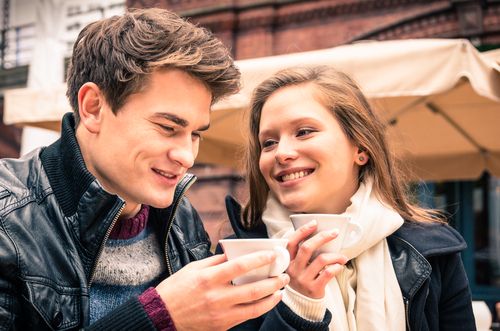 You've been on first dates before, many times, and you know they can be scary. Sometimes it is hard to get yourself excited about a night you know could end in disaster (or even worse, drone on awkwardly for hours). But hey, it may also be the first in a series of wonderful dates with the person you spend the rest of your life with — or at the very least, a fun experience with an interesting new person.
You want to put your best foot forward, and that means being prepared. But beyond your mom telling you to "just be yourself," what can you do? Here are four tips for impressing on a first date.
1. Location, location, location
You can nudge a first date toward the win category by planning an interactive activity rather than the standard meet for a drink. If your date is the one in charge of planning, send a few suggestions so he/she doesn't feel the pressure of anticipating your interests.
Conversation over dinner or drinks can start to feel like an interview, even with someone you might potentially like. You'll be surprised how much easier conversation flows when you have a natural jumping off point such as an activity. Save your elaborate, romantic plans for later dates, but suggest fun, time-limited activities such as wine tasting at your local wine store, a visit to a local museum or a walk through a park.
2. Show off your interests
It may seem silly, but the truth is that people who are sincerely interested in something are more interesting to others. And even if you've planned a great activity, the date will likely involve eating and drinking. Show off your enthusiasm for quality drinks and food as opposed to, say, your lifelong obsession with the harvester ant.
Is food your thing? Then talk to your date about the new trend of "no-waste kitchens," which are restaurants that strive to produce little or no food waste. Share a plate of artisan pickles that, as a foodie, you know as one of the biggest food trends of the year.
If you're having a drink, order the Guinness Nitro IPA to share with your date and talk about how the smooth, creamy texture comes from Guinness' unique nitrogenation process.
Of course, you don't want to go overboard and make this a recitation of everything you know about a subject, but it's nice for your date to know that you are capable of having a conversation about something other than your job and the weather.
3. Be interested in your date
You've shown your date that you are interested in a variety of topics. Next, turn your attention where it counts the most, to the person sitting across from you.
Ask your date questions beyond the usual biographical details. Those things will come out naturally as you get to know each other, but rarely does the "where did you go to college" question spark a genuine conversation.
Ask something specific that doesn't put the other person on the spot, unlike the dreaded "so….tell me about yourself." Ask fun questions such as: "Have you thought about what you'd do if you won the lottery?" or "What's your best friend like?" or "Do you have a bucket list?" Then actually listen to your date's answer instead of thinking about what you want to say next.
4. Listen to your mom
Seriously. Be yourself. The end goal for both parties on any first date is to figure out if this is a person you want to spend more time with. It is much easier to do that if you and your date are both being genuine, rather that trying to act the way you think the other person expects or wants.
Plus, just like your mom says, you're wonderful and interesting and anyone would be lucky to know you.
Latest posts by Ragna Stamm'ler-Adamson
(see all)