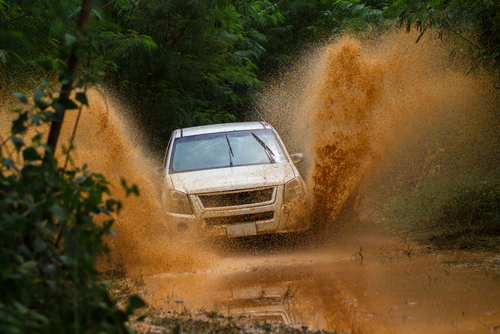 What is a good date idea when your first love is your truck? Featured below is a slew of ideas that will allow you to combine both interests. But be prepared, because this ain't no sittin' on the front porch, drinking lemonade stuff. So, load up the truck and get out there and have some fun.
1. Take a Joy Ride Through Mud
A little competition among friends might also turn into a great joy ride for your date. All you need is a mud pit and a 4×4 truck to get through it. OK, so you might want to mount up a good set of off-road tires before you head out on your outdoor venture.
But know the demand for this adrenaline-rushing activity is quickly gaining steam. Indeed, all across the country, friends are gathering on the weekends to get out and get muddy. So, when you decide on a time and date, see who can cross the pit faster or even get across it all together. Either way, your girl is bound to have a great time.
2. Compete in a Hill Climbing Challenge
Now, if you want to save the mud for a different day but still want to enjoy some friendly competition, take your date on a hill climbing challenge. Who knows? Maybe she'll show you how to get to the top. But it doesn't have to be straight up the side of a hill. Instead, you both can find a less extreme hillside. Oh, the stories you could tell.
In the end, it's all about experiencing the adrenaline rush when you get to the top. And your date won't forget the great time you had together.
3. Head to an ORV Park
OK, so there isn't anything leisurely about venturing to an off-road vehicle park. Still, it's a little tamer than the first two activities mentioned above and is definitely worth checking out. Plus, your date is bound to enjoy it just as much.
These parks are specially made for off-road vehicles, including ATVs and trucks. And the trails are not your normal paved type of surface. Through this activity, you'll get to travel through the wilderness and check out the amazing scenery. But make the date unique and something of your own. Case in point: Maybe pull off and enjoy a picnic, or go for a short walk.
Either way, she's bound to get her adrenaline fix, while enjoying the sights and sounds of nature. Sounds like a win-win to us.
4. Take Her Dirt Biking
Hopefully, your date can drive a dirt bike. If not, either show her how or let her ride with you. It's a lot of fun just going for a joy ride in the wild. So load up a bike – or two – and head out to your favorite spot. You could even pack a lunch for the both of you when you're ready for a break.
5. Hike a Trail in the Woods
Hiking is a great way to get to know each other a little bit. But, if this is your first date, you might want to find a short path in case things don't click. Nevertheless, make sure to dress for the occasion and bring plenty of water. Maybe even lunch, too.
6. Raft Down a River
Get yourself a raft and take her for a ride. It doesn't have to be extreme; just a nice, quiet float down the river will do it. But if she wants to be a little daring, who are you to say no? Bring some friends along and make it a party. Regardless of your company, you'll want to ensure your safety by knowing the ins and outs of the river ahead of time.
7. Geocaching is the New Pokemon
Maybe you've heard of it, maybe not. Essentially, geocaching involves the use of GPS to find pre-hidden treasures of any and all sorts. Think of it as a 21st-century treasure hunt that's reliant on technology to find the biggest and best bounties.
So grab your girl and take her out into the wilderness to find something special a friend has hidden for you. Or, just make it a friendly competition with a group of friends. Either way, she's sure to enjoy being out having fun with you.
Try these off-road ideas for a first or any subsequent date with a girl you have eyes on. After all, there's no need to settle for some boring date you both don't enjoy. So get in your truck and go off-roading. Ultimately, both of you will have a great time.
Latest posts by Ragna Stamm'ler-Adamson
(see all)