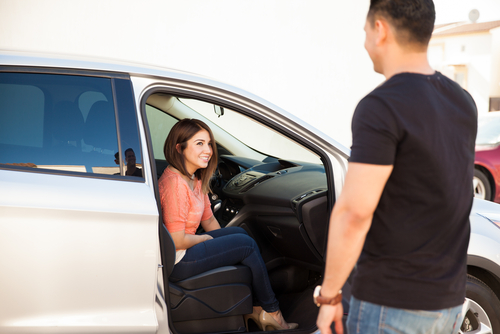 A first date can be an exciting and nerve-wracking experience. While you are looking forward to spending time with your date, you are also nervous about making a good first impression. From your clothing and hair to cologne and shoes, you want to portray yourself in a positive light. Remember, the car you drive also says a lot about you to your date. And as the first thing he or she might see, you need to know what your car is saying. To make the best first impression possible, consider the following suggestions:
Make Sure It's Clean
Even if you have the coolest car in town, if your ride is nasty looking, you will not impress your date. If your vehicle is grungy, your date may assume that you, your home and your life are also messy and disorganized. Before your date, take your car in for a thorough wash and ask a trusted friend to do a sniff test of the interior. If he or she reports smelling stale french fries or worse, vacuum the inside and spritz it with some air freshener.
Show You Care for Mother Earth in a Nissan Leaf or Toyota Prius
A great way to show your date how much you care for the environment is to arrive for your first date in a Nissan Leaf, Toyota Prius or some other electric car. As a bonus, these cars are comfortable, smooth to drive and easy to maneuver in heavy traffic. If you are in the market for a new-to-you vehicle, DriveTime enables you to search for the car you want and then shows you which dealerships have your desired vehicle in stock.
Look Adorable in a Mini Cooper Convertible
The Mini Cooper convertible is one of those cars with a built-in "aww" factor. You can show your fun and whimsical side by putting the top down and playing your favorite song as you drive to your first stop. The Mini Cooper convertible also gets decent gas mileage, which leaves more money in your wallet to spend on that special someone.
Display Your Outdoorsy Side in a Jeep Grand Cherokee
The Jeep Grand Cherokee has a rugged look that you can show off if your date is into the outdoors. But even for its rough-and-tumble exterior, it features a surprisingly smooth and quiet ride along with a nice stereo system and plenty of leg room. It's also a vehicle that looks cool without trying too hard.
Show You Have Class in a BMW
A BMW is a perfect car for a first date. It's an attractive vehicle that is comfortable for two, easy to drive and park, and has pretty good gas mileage. A BMW also shows your date that you make enough money to afford a nice car — after all, BMWs are well-known as high-end vehicles. A BMW also shows that you don't go over the top with your purchases and just want to show off. It turns heads without being too flashy.
Latest posts by Ragna Stamm'ler-Adamson
(see all)