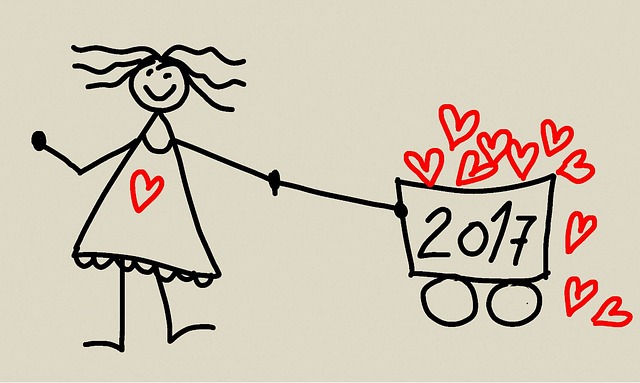 The marking of a new year can be a great chance to evaluate the past, and determine what we'd like to strive for in the months to come. While new year's resolutions are often grandiose (and often unrealistic) changes, we can instead choose to focus on attainable steps which will improve our overall state of being. As single people, our dating life is an important area which we can always tweak and improve, and getting a fresh start can really help us find our way to rich experiences and a more satisfying journey.
Dating: Getting a fresh start in 2017
1. How do you want to feel with someone? Too often we settle into relationship situations which don't make us feel good, in exchange for not being alone. Keeping in mind that every relationship has its ups and downs, if we imagine and hold onto how we'd like ourselves to feel with our partner, we'll stand a better chance of meeting and staying happy with someone suitable. Happiness is a choice, and if we find ourselves remaining in a situation which makes us feel the opposite, it's usually because we've lost site of how we want ourselves to feel with someone.
2. Trust your gut. How many times have we said, "I knew it was wrong" or "I knew I shouldn't have done that"? This "knowing" is your instinct guiding you to the right choices in life. If we choose to ignore this helpful internal voice, we'll find ourselves making similar mistakes, and repeating the same negative patterns. Instinct is an extremely useful tool in the world of dating and relationships, where emotions and insecurities can often overwhelm us. Spend some time making note of what your inner voice is telling you, and try following its advice – you'll find you have all the answers you need.
3. Pare down your "list". While it is important to know what you need in a mate, "wanting" a long list of characteristics isn't exactly realistic. Determine the top three traits you can't live without, (like sense of humour, someone who's considerate etc.), and leave the rest up to the universe to decide. What's perfect on paper is not always what's perfect for us…
4. Update your image. Feeling good and confident about how we present ourselves can go a long way in helping us attract the right kind of people. Try to be objective about this – is your look outdated? Are you too comfortable wearing the same clothes you wore 10 years ago? Our appearance of course only gets us in the door, but you don't want to limit your opportunities by a poor first impression.
5. Make peace with the past. This includes any negative feelings you might still be carrying around towards your exes, or parents, or anyone who is a sore spot in your life. You may not realize it but this negative energy directed towards others drains the positive possibilities you can create for yourself. If you don't like something, change it. If you can't change it, let it go.
Whichever area of your life you'd like to improve, it's important to remember that change doesn't happen overnight, but is an evolution which requires patience and consistency. And when we're making alterations to ourselves, like breaking habits or changing thought patterns, it's pretty likely we'll experience setbacks. This absolutely does not negate the progress you've made, but rather reinforces where you were vs. where you'd like to be.
Latest posts by Ragna Stamm'ler-Adamson
(see all)