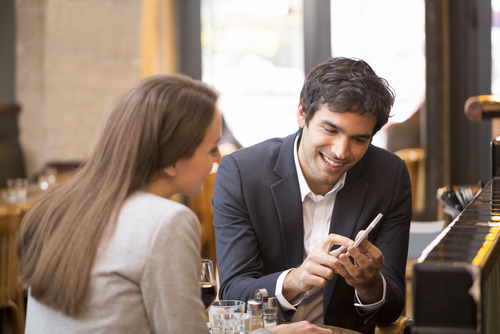 Scoring a second date following the initial conversation at a speed dating event can be rather difficult, especially considering the time constraints. You have to think of something interesting to say and make an impression to help forge a connection with the person sitting across the table from you. However, if you are a techie, possessing the right tech gadgets may afford you the opportunity to reveal an element about your personality that may lead to a second date. Here are a few items to consider:
Samsung Gear S Smartwatch
A smartwatch may be the perfect conversation starter if the individual sitting across the table from you is also a techie. A smartwatch like the Samsung Gear S may signal that you're up to date on the latest gadgets or that you have a passion for technology. Either way, if your speed date also loves technology, you've instantly captured his or her attention and the odds of landing a subsequent date are more in your favor.
This also may give you a way to break the ice and start a conversation. You can explain how this high-tech wearable allows you to stay on top of emails, text messages, upcoming events, new apps and even phone calls while you're on the go. And you can take things a step further by sending him or her a text message directly from the device to lock the digits in. You can even request a coffee or lunch date to get to know him or her better.
Jawbone UP Move
A fitness tracker may indicate to the person sitting across from you that you enjoy working out and being active. And if he or she shares the same passion, you may want to ask him or her out for a workout or a fun-filled outdoor activity once the speed dating event is over.
Plus, when you invest in a fitness tracker, such as the Jawbone UP Move, you have access to an array of benefits at your fingertips, including a heart rate monitor, fitness app that integrates with your smartphone and a built-in sleep tracker. Best of all, there are options to complement your style. Just like with the smartwatch, this gadget may give you something to talk about and bond over. And, it's a great way to know if you and your speed date have any common interests and may be compatible.
Apple iPhone 6
Apple products are typically innovative, popular and expensive. In fact, loyal customers sometimes completely disregard price upon hearing the announcement about the latest new release that will be hitting the shelves. Apple fans often have a lot in common besides their love for the brand as well. If you are an Apple fanboy or fangirl, consider leaving your iPhone 6 on the table to signal that you are up to date on the latest technology and that you don't mind paying extra for it. And, if your speed date also loves Apple, you have an easy conversation starter.
Latest posts by Ragna Stamm'ler-Adamson
(see all)