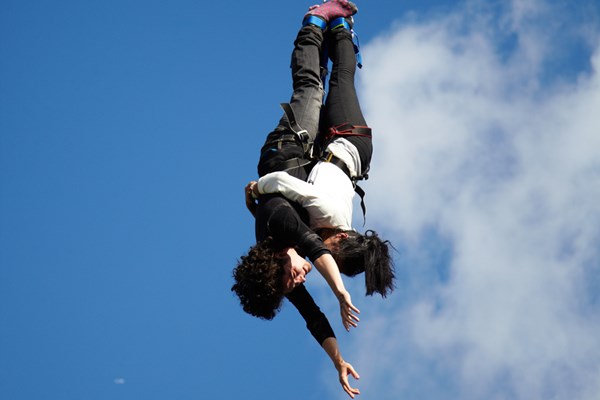 There's neither a magic potion to drink nor any tried-and-true blueprints for couples to follow and get closer to each other. Therapists will tell you to come see them for relationship counseling a few times a month (will that be cash or credit?) only to state the obvious: "listen to each other," "focus on the positives," etc.
Some common reverse-role panaceas for relationship reinforcement can be temporarily effective. She can stay up all night playing PS4 games with him like one of the guys. He can be cute and show his sensitive side by painting her toenails and attempting to apply her makeup like the girls do before a night out on the town.
Granted the aforementioned activities could definitely strengthen your bond. But high scores are broken and makeup washes off. Couples who genuinely want to fortify their love will not only do the unorthodox, but do it in an unabashed way that creates lasting memories. Test your love with these three activities of endearment.
Kissing Game
It was February 12, 2013 when Ripley's Believe It Or Not traveled to Thailand for one of their most affectionate contests of all time. Nine couples, including a 70-year-old husband and wife, competed to become Guinness World Record holders for the longest kiss ever. Ekkachai and Laksana Tiranarat kissed for 58 hours, 35 minutes, and 58 seconds to not only claim the record, but also a cash prize and diamond rings.
The world record for longest kiss is essentially two-and-a-half days, which means couples can attempt to break it on a weekend when neither is working. Though kissing in public is considered free speech, protect yourselves by clearing your plans with city hall. Set up shop (complete with camera, tripod and stopwatch) in a high-traffic area like a downtown lawn between government buildings. Make a sign saying something to the effect of "We love each other; We're breaking the world record for longest kiss," get comfortable, and lock those lips.
Whether you break the record or not is insignificant. The attempt will be good for both your relationship and health. Couples who kiss several times a day have lower cholesterol, less stress, and fight less than those who don't kiss a lot, according to a 2009 Arizona State University study. Kissing also boosts your immune system and even improves oral health.
Bungee Couple
Wrap your arms tightly around each other, feel the heartbeat of the other pounding against your chest, close your eyes and bungee!
There are of course innate dangers associated with bungee jumping. But its that adrenaline rush, along with the possibility a kiss before you jump could be your last together, that make bungee jumping together such a powerful pursuit. Dr. Seth Meyers, in his book "Love Prescription" called adrenaline a natural aphrodisiac that can infuse new life in a stale relationship.
Bungee jumping will also help you both overcome fears, particularly those associated with commitment.
Get a Twin Bed
Cuddling might be the most important part of a relationship outside of sex. A 2005 study by researchers at the University of North Carolina found that frequent hugging and cuddling in a relationship lowers blood pressure, stress levels, and boost memory functions. The study also found cuddling triggers the brain to produce more oxytocin, the so-called "bonding hormone."
Get rid of that giant king-sized bed and trade it in for a twin. The two of you will be forced to adopt the Honeymoon Hug, Sweetheart's Cradle, or The Spoon sleeping position to fit on the bed. All of the positions ensure maximum skin-to-skin contact, which is ultimately good for both your physical and relationship health.
Love is defined by three simple factors: trust, commitment and loyalty. Partaking in all the aforementioned activities will go far in showing your significant other how much you love them.
Latest posts by Ragna Stamm'ler-Adamson
(see all)