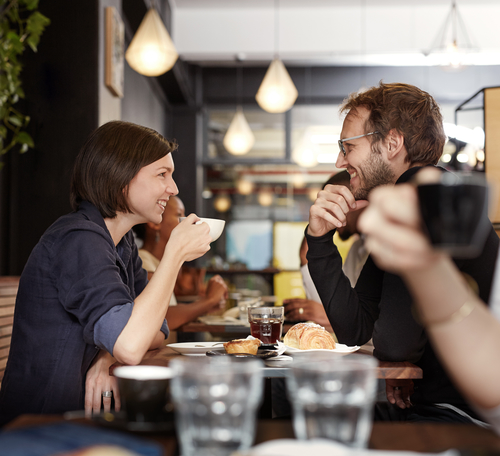 If you're single and have so much as dipped a toe into the dating world, you're aware that today's dating culture is problematic — to say the least. Current trends in dating don't lend themselves to the preferences of those who believe in meeting potential partners face to face. And even if we find someone who wants to go on a date, who among us hasn't struggled through an awkward meal with too many gaps in conversation and furtive glances at your cell phone wondering how to make it end?
The good news is that dating doesn't have to be synonymous with these kinds of pressure-filled situations. In fact, you can meet some great people — potentially your soul mate — in face-to-face settings, without the experience feeling like a job interview. Here's how.
Consider Planned Activities
Let's say you've met a special someone at a speed dating event who you want to get to know better. Before exact plans are set, you can take control of the course of your first real date. Instead of suggesting or accepting an offer to grab a meal or coffee or drinks, throw another idea out to there. Take a look in your area for what's available and then suggest an activity you can do with this person. The activity should ideally be organized, include other people, offer something to do other than merely chat and be structured for a certain period of time. For example, there are some businesses that offer introductory painting classes over a glass of wine.
The beauty of something like this is that your conversation will be pleasantly broken up by some instruction, a new beverage and possibly some chatter from your neighboring attendees. You'll have time to talk to your date throughout the event, but you won't be forced to have an endless stream of back-and-forth banter. Then, when the event concludes, it's obvious to both parties that the date is over. If you've enjoyed yourself and want to extend the evening, you have the option to do that. But if you're ready to go home, you have an easy way to conclude the evening and be on your way. Other similar ideas include attending a cooking class or a sailing class (if you live near water). Don't let yourself get boxed into the typical first date dinner, and you'll enjoy getting to know the other person without the stress of a purely one-on-one situation.
Seek Out Groups
What if you still want to meet somebody, but have no idea where to look? A good place to start is by attending some Meetups in your area that are related to interests you have. You could find a yoga-focused group, or one that includes a group of people interested in learning foreign languages. Whatever passions or hobbies you might have, there's likely a related Meetup group. Once you find a group (or several) that you're interested in, start attending meetings. You may find that you hit it off with another attendee and the relationship can grow from there in an organic way.
Alternately, Meetups are also a great option if you already have someone you want to get to know better. Discovering a mutual interest and becoming involved with a group as a duo is yet another easy, fun and stress-free way to get to know a potential significant other.
The key to making dating delightful in today's culture is to find ways to meet people in person and get to know them in a more natural environment. Take some time to seek out planned couples' activities or organized Meetups, and use these as a springboard for getting to know the other person. You'll be able to breathe a sigh of relief that you won't have to force small talk for hours over dinner, and you'll have a rare opportunity to get to see the real side of the other person (and vice versa). Dating can be a very pleasant experience, if you just know where to look and remain open to new possibilities.
Latest posts by Ragna Stamm'ler-Adamson
(see all)