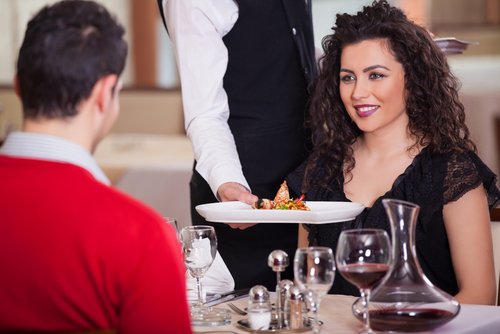 There is no second chance to make a first impression. When it comes to a first date, the other person is going to develop perceptions of you in this initial encounter.
There is little you can do to organically change your overall appearance, demeanor or way you interact with others. One thing you can — and should — definitely take great care in is choosing the location. Dinner, drinks or perhaps a more casual lunch are excellent, pressure-free options to get to know someone. But what type of place should you choose? Keep the following points in mind when making a reservation.
Casual but Classy
There may be no bigger sin than taking a first date to an expensive restaurant. You will naturally want to impress the person and show them that you think they deserve the best, but be wary of overkill. If you take your date to a place with white tablecloths and pretentious waiters, things are not likely to work out. This is day one — not your 10-year anniversary.
On the other hand, don't go somewhere too ordinary. Nobody wants to spend a first date with a night out at Applebee's or the local tavern eating chicken wings. This will lead to your date thinking they aren't even worth thinking about.
Instead, go somewhere hip. Try a trendy gastropub, brick-oven pizza place or the nearby bistro known for its wide selection of wines. Think chic over elegant.
Neutral Field
Another good option can be the new restaurant in town. This can be a little bit dangerous if the food turns out to be a flop, so be sure to ask around and consult a reliable rating system like the Michelin Star.
Never take your date somewhere too familiar. If you eat there every week, know all the bartenders and golf with the owner, don't go there on a first date. Worst of all would be going somewhere run by a family member.
Remember that this evening is supposed to be about getting to know each other, and that won't be helped if you're in a place where everybody knows your name. There is concept in sports in which championship games are not played at either franchise's home stadium. They take place on what is called a neutral field. Follow this principle and don't try to give yourself a home-field advantage.
Make It Fun
The best advice is to go somewhere that has a unique vibe and a little bit of fun and excitement. A jazz pub with soft live music can be great. A chain restaurant that has TVs showing sports is not. A Mexican restaurant that makes table-side guacamole works every time. A pizza place with arcade games does not. A Spanish tapas spot with live dancers may set the perfect ambiance. A place where the waitstaff sing happy birthday to a toddler will be a dud.
Try to find the restaurant with just a little bit extra. The key to the night and your first impression will be the conversation and chemistry during the course of the meal. But having something other than just a plate of food and those awkward get-to-know-you moments to remember will leave your date remembering the night —and you — fondly.
Latest posts by Ragna Stamm'ler-Adamson
(see all)