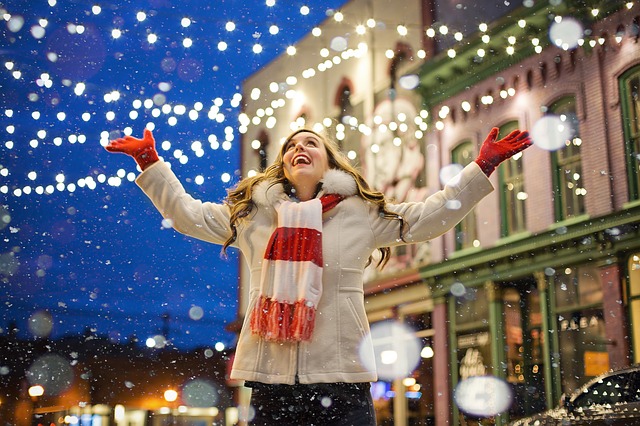 Let's face it, after Valentine's Day, the Holidays can be one of the hardest times of the year to be single. We're inundated with images of couples, families with children, gifts ideas "for your loved one", not to mention thoughts of the dreaded 11:59pm on New Year's Eve! It can be difficult not to give into feelings of loneliness and isolation, especially when we're showing up to staff parties or family functions, sometimes being the only single one in attendance. The important thing however, is not to fall into a self-pity party! Being single is a stage most of us go through a few times in our lives, and happiness is a choice. So with a few helpful hints to keep in mind, let's choose to be Happily Single over the Holidays!
1. Remember you're not alone! There are tonnes of singles around, and the Holidays are no exception! There's no reason to retreat into loneliness and isolation – it's the perfect time to reach out and engage in all the singles' activities available to you, like parties and "speed dating".
2. Focus on what you DO have! It may sound cliche, but sometimes we really do need to remind ourselves how fortunate we are, to be living in such a great country with so many opportunities at our fingertips. Enjoy your family and friends and enjoy the time you have off work too!
3. Take the pressure off yourself. So you're single over the Holidays, it's a temporary time of year and only a few weeks long! Don't let it dictate how you feel about yourself or your love-life.
4. As always, radiate positive energy and this is what you'll get back! Even if you're not feeling it 100%, try to get in the spirit of the season – be kind and generous, and why not dress up a bit to help project that positive energy? It often does help to "act it" so you can "feel it".
5. If feasible, plan a vacation over the Holidays if you feel like getting away. Go away with another single friend and just have fun! If this isn't possible, do something for yourself that you've been putting off all year – give yourself a Holiday gift – you deserve it!
6.  Think about what you will do in 2018 to attract the partner who you are looking for and commit to actively pursuing that.  We spend a lot more time at work then we do on going out and meeting people and putting ourselves in "target-rich" environments.  That is why we love what we do so much; we get together people who might not otherwise have met, who are single, and there are many of them to meet!  Not only that, but it is efficient!  You don't end up spending a lot of time with someone you are not interested in, and those you are interested in, you hope to match with and have a longer date at a later time!  View our upcoming events here: 25Dates.com

Ragna Stamm'ler-Adamson is the Founder & CEO of 25Dates.com.She created the company to bring singles together to find love.She enjoys contributing to the blog to let others know that they too can find lasting love as she did:In 2006 she met her loving husband and in 2008, together they were blessed with a beautiful baby boy.
Come find me on
Google+

Latest posts by Ragna Stamm'ler-Adamson (see all)