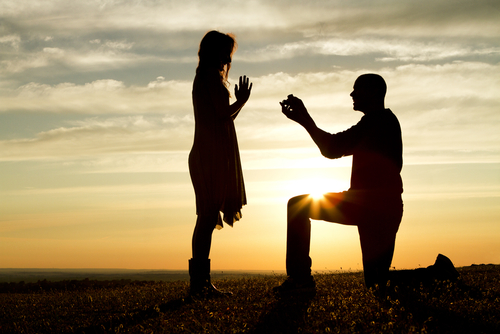 Ready to take the next step in your relationship with a unique and unforgettable proposal? Ditch a restaurant dinner date or hot air balloon ride. Here are six proposal ideas your own one-of-a-kind lady will love that will match the interest, personality and passion of your special gal.
Shy Intellectual
If you and your lady fell in love over Words With Friends, then crafting a puzzle as a proposal will make her heart melt. Use a word search generator to customize a few personalized word search puzzles leading up to the big question. Profess your love for her and what she means to you. As she completes the final puzzle and circles the words, "Will you marry me?" make sure you're already down on one knee ready with the ring. You can bet she'll swoon and say yes.
Coffee Addict
Did you meet the love of your life at a coffee shop? Is having coffee together a weekend morning ritual? Pop the question over a warm cup of coffee at your favorite local coffee shop or at home with a home-cooked brunch in bed on a Sunday morning. Pour her coffee into a special mug with "marry me" charmingly inscribed at the bottom. (You can find a hand-painted marry me mug on Etsy or create your own). Once she finishes her coffee and reads the message, ask her if she'll share a cup of coffee with you every morning for the rest of your lives. Your proposal mug will also be a warm keepsake of the momentous occasion.
Dog Lover
Plan a special engagement at home with the help of your beloved four-legged fur baby. Drape your home with red rose petals and use candles to create a romantic ambiance. Now that the romantic setting is right, you can escort your loved one to the perfect spot and express your forever love to her. Just as you ask her to marry you, call over your dog to surprise her with a diamond ring dangling from the collar. Sharing this moment with your pup will make it extra special and meaningful.
Outdoor Adventurer
Mother Nature offers beautiful romantic scenery for the active couple who loves to explore the outdoors. During a camping trip, pack champagne into a neoprene wine tote along with two plastic cups for a hiking day trip. String the engagement ring onto a chain worn around your neck. Right at sunset or at a picturesque spot, bend over to tie your boot and linger. When she asks what's taking you so long, look up on one knee to begin your proposal. Take the ring off the chain. Tell her you've worn it near your heart all day, which is where you want her to be for the rest of your life.
Social Butterfly
If your gal loves to be the life of the party, then invite her best friends, family and co-workers to be a part of the main event. Coordinate a surprise party that begins with an intimate proposal and ends as a wild engagement party. This affair can be a fun prequel to the big day where all your closest friends and family can share the moment and celebrate. Propose in the backyard at dusk with only a few candles lit, and then once she says yes, bring in all the guests. Turn on the twinkle lights and colorful lanterns, play the music and pour the cocktails. The party's started — and will last a lifetime with your future wife at your side.
Workout Warrior
A couple that works out together, stays together. The CrossFit gym is not only a place where people sweat hard, get strong and test their limits. The box is a place where fitness-obsessed people meet and fall in love over WODs, EMOMs, AMRAPs, weightlifting and mobility. If you and your lady love to CrossFit, propose in the middle of a heart-pounding workout or after a heavy lift. Tell her why she's your one and only, and then ask her if she'll be your forever "swole mate" who will always make your heart pump fast and give you an endorphin high.
Latest posts by Ragna Stamm'ler-Adamson
(see all)