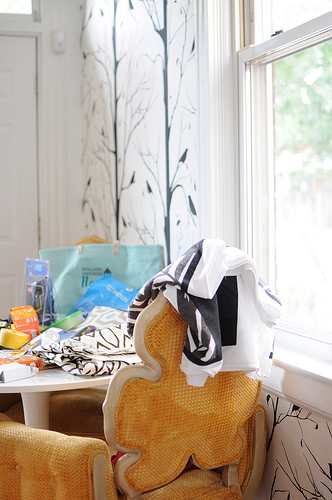 As a single parent, go you ever catch yourself looking forward to a date, only to be sent into a minor panic attack after taking a quick look around your house. Is your place not nearly as clean or tidy as it needs to be for your mother to see it, let alone a potential suitor?
It's not uncommon to find yourself overwhelmed when you realize that. Even beyond the daily upkeep, you have bigger issues with your home that need to be addressed too—not to mention the responsibilities of being a parent.
But that's OK. You can keep your home up and running as a single parent and still have some free time left over to enjoy.
Let's look at ways to approach keeping your home in tip-top shape so that you can have plenty of time to dedicate to work, spending quality time with your children, and continuing your search for "the one".
Start with a clean slate
With spring right around the corner, it's the perfect time to open up all the windows and refresh your home from top to bottom. From scrubbing baseboards to dusting ceiling fans, take advantage of spring by reclaiming the comfort and freshness of your sanctuary.
This is also the perfect time to do an emotional spring cleaning. By letting go of emotional baggage such as resentments and procrastination, you can clear your mind in preparation for addressing any larger issues that you may face in order to really whip your home into shape.
Make a list
Now that you've detoxed—both mentally and physically—the bigger picture starts to get clearer. Take a leisurely stroll around your home and lawn. As you do, assess and make a list of maintenance and repair projects.
Putting these potentially daunting tasks on paper can provide peace of mind by giving you a framework for reference when executing an action plan. Include maintenance tasks such as replacing air filters or refinishing the deck as well as larger home projects and renovations.
Create a chores chart
Unless your children are very small, they can—and should—be involved in household tasks. You may even find that they actually enjoy it. After all, just about everyone likes to feel useful and essential.
Even toddlers will want to get involved when they witness their older sister or big brother chipping in to help around the house. Chores such as washing the dishes after dinner, removing shoes from the entryway, or folding laundry are easy to delegate on a daily basis and it will help make your days just a little bit less stressful.
Don't forget to delegate
It's most important to remind yourself that no one can do it all. Whether it's date night or just a few hours of peace and quiet, we all need a break sometimes. There should be no shame or guilt associated with hiring a babysitter once in a while.
Delegation goes beyond babysitters though. Carpools to and from school or sporting events could be a real game changer for parents who work.
Consider the other tasks you can take off your plate. Are you being overworked at the office? You might propose hiring an assistant or having a direct conversation with your manager about your workload.
What about that to-do list you made earlier? If you have several tasks on your home maintenance list that involve appliance or system repairs, you might sign up for a home warranty. These companies will find and schedule an appointment with a licensed local repair pro for you, according to House Method.
Enjoy the fruits of your labor
Now that you have refreshed your home and created an action plan for maintenance and repairs, give yourself time to relax and reap the rewards. Spend even more quality time with your children, read in the sun on the patio, and invite your friends over.
You might even consider hosting date night at your house this time.
Latest posts by Paige Mitchell
(see all)