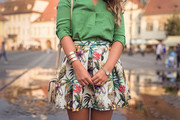 Ladies - How to Dress for Any First Date
Not all first dates are created equal, especially when it comes to what to wear. A first date can be a daytime coffeehouse affair or a romantic late-night dinner, and depending on the feel, you can go cute and casual or all-out glam. Here's our fall/winter guide on what to wear on a first date.
Cafe Date
If you're kindling sparks over espresso at a local coffee shop, you'll want to perfect the effortless casual coffeehouse look of mismatched patterns and unexpected fashion twists. The type of man who invites you to a quaint cafe might show up with a five-o-clock scruff and in an unassuming heather gray T-shirt. Mirror his look with natural, free-flowing hair and a floral skater skirt.
Remember, one must not mutter "hipster" while crafting this look of above-the-knee socks and combat boots or Aztec leggings with knee-high boots. If it's warm enough in your locale, keep it seasonally chic by pairing a sweater with your high-waisted or cutoff denim shorts. Finish the look with a designer satchel handbag.
After-Work Drinks
Sure, you can pack an extra outfit to change into after work. But with a minimalist look and the right accessories, you can easily transition your outfit from hardworking daytime professional to sultry single lady ready to let loose from the workday. The essentials include:
Classic pumps in a neutral color or heels with a buckle for flirty footwear flair
High-waist pencil skirt and skinny belt to show off a shapely silhouette
Tucked-in floral or solid-colored blouse
Classic blazer (for cooler nighttime temps)
Timeless watch in rose gold
Freshen up with a few cosmetic touch-ups. Spritz tresses with texture spray or dry shampoo for dramatic definition and tousled volume. Allure's Daily Beauty Reporter recommends taking black eyeshadow and pressing it into a cat-eye liner on the eyelids. Smudge the eyeshadow to the eye crease for a smokey look. Dab a bit of shadow on the lower lash line. Swipe lips with a deep rose lip gloss.
Out to Dinner
He asked you out on a dinner date and is picking you up. He's interested! It's time to dress to impress. The golden rule for any first date is not to reveal too much. Sexiness without flaunting it is an art. The default choice is the quintessential little black dress, which never fails. But the following fall and wintry ensembles can catch the eye of your date without being too basic or predictable:
Black leather leggings with an oversized sweater and suede ankle boots in mustard, olive or cranberry
Fit-and-flare dress in a bold color paired with a blazer or leather jacket and tights
Camel-colored, knee-high boots with herringbone tights and a glam sequined skirt
Belted floral dress with above-the-knee socks, ankle booties and a chunky scarf
Sporting Event
Just because you're going to a basketball game doesn't mean you have to wear a team jersey and wave a giant foam finger. Even if you don't dress as the number one fan, you can still show team spirit with a perfect blend of sexy and cute. Jeans or denim shorts with a V-neck cotton T-shirt in the team colors and sneakers create casual style with flirty flair. Of course, if you are a die-hard fan, don't hold back on your team spirit - proudly dress in team apparel and cheer loudly.