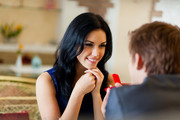 Reading the Signs
It's hard to believe that Isaac Lamb could coordinate some 30 people - including a small marching band - to help him propose without his girlfriend Amy suspecting something was up. But as she watched the troupe dance to Bruno Mars' "Marry You," and then reacted when Isaac appeared at the end to get down on bended knee, she seemed truly taken off guard. P.S.: it worked. Amy is now Isaac's fiancee.
Few guys will go to such lengths of choreography and lip synching, so don't despair if your sweetheart isn't spending all his spare time sneaking off to practice with a local dance company. There are other telltale signs that a marriage proposal is in the offing.
More "We" and a Lot Less "Me"
A guy who is ready to let go of his bachelor ways stops thinking in singular terms and starts considering how issues big and small will impact the both of you. You'll notice a change in his vocabulary. His conversations will include a lot more "our," "us" and "we." Theknot.com says you'll notice your honey is involving you more in "big picture" decisions, asking your opinion on issues such as whether you should buy a house or continue renting, or what you think of a job offer he received.
Your Wild Man Becomes Domesticated
Your man will start settling down when he gets ready to, well, settle down. According to Lifescript, you may notice out of character things, such as exchanging his motorcycle for a four-door sedan. Or he might replace his neon "Coors" sign with a sophisticated piece of art. His interests will become more domestic, too. Instead of bar hopping, poker night or an afternoon of watching football with the guys, he'll opt for time spent with you shopping for housewares at the local bed and bath shop or cuddling on the sofa while watching a chick flick.
Odd Jewelry Developments
If your guy is thinking about popping the question, he may start paying unprecedented attention to jewelry. You'll notice him slowing down in front of the jewelers at the mall, or you might catch him browsing the fine jewelry page at Macys.com. And when he gives you the ring, he won't want you to have to schlep it into the jewelers to have it sized. That's why you might notice one of your favorite rings missing. If it's just one ring, don't call the authorities yet. Wait a few days to see if your ring reappears as mysteriously as it vanished.
He Willingly Attends Weddings
It might throw you when your boyfriend quits complaining about attending weddings with you, and actually makes it through the ceremony without cracking wise. And you'll really be astounded when the comments he does make are insightful observations about issues such as the venue, the decorations, the food selection and the choice of a live band over a DJ. Take note. His 180 regarding weddings is a sign that he's thinking about one of his own.
Conversations Take a Serious turn
It's a big matzo ball to having hanging out there when a guy proposes and his lady love declines. There's no going back from that one. Your man may want to be sure you'll say "yes" when the time comes. Your Spidey senses should be tingling if he starts talking about things such as long-term hopes and dreams, stability and commitment, according to WhatdoMenReallyThink.com.