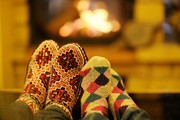 Romance Her Without Leaving Home
Nothing kills the hot feeling of romance quite like an endless season of ice, slush and snow. Winter wears on everyone, and the daily slog through the cold can cool off the warmest feelings of love. Your lady deserves a night of passion; an evening of hot sparks and a warm glow afterward. Taking her out somewhere defeats the purpose of staying warm - you need to plan this event for home. Luckily, you've got almost all the supplies you need. The only thing left for you to bring is a taste for romance and a willingness to experiment.
Wardrobe
Buy her something nice to wear while you're having your date. Choose luxurious fabrics and comfortable styles, like a silk robe or satin pajamas. Nothing see-through; the idea here is love, not lust, at the beginning of the evening. Invite her to take a leisurely warm bath or hot shower, and then allow her to dress in her comfortable date outfit. She'll be warm and feeling catered to before the evening even starts.
Drinks
Instead of serving the usual cocktail or beer before dinner set up a classic tasting flight of wines, whiskeys or vodkas. Airport-sized bottles are ideal for tasting different brands of liquor, and your local wine merchant can advise you on three different vintages that go well together. Serve plain crackers and bottled water in between drinks to cleanse your palate. Make detailed notes so you can pick up the winning brands the next time you go to the liquor store or wine shop.
Photo by phandcp via Flickr
Spa Time
Relax and turn up the heat if you've got a spa or hot tub. The warm water and bubbling movement add excitement to your date. Snap on a spa side table to hold another glass of your favorite tasting wine or liquor for sipping and relax next to each other, close enough to touch. Take it up a notch with an underwater hot tub light show, available at HotTubWorks.com, and make your evening sparkle even more.
Food
Instead of interrupting your warm glow, serve her a dinner made entirely of appetizers and finger food. Lay a thick blanket or quilt on the floor. If you've got a fireplace, build a roaring fire. Arrange the plates around the edge of the blanket and feed her the choicest tidbits. Make elaborate appetizers, such as tiny quiches and filled empanadas, or simpler foods like ripe raspberries, strawberries and whipped cream, and cubes of gourmet cheeses. Try a fabulous dessert such as chocolate dipped strawberries, or go all out and prepare a perfect bookend tasting flight of three different flavors of mousse.
Photo by garryknight via Flickr
Build the Tension
You've got all night, so spending some time building tension throughout the evening is a great way to ensure a sparkling sendoff. Spend time with a quiet activity such as playing backgammon, a card or board game, or reading to each other. Make sure you can pay attention to each other, whatever the activity, and give her a significant look or stroke of the hair every once in a while. Whether you manage to finish the game is entirely up to you.