Dating Articles
Don't Invite Your Date Over Without Doing These 5 Things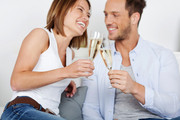 Bringing your new date home for the first time? It's almost like an audition. Will you both pass those judgmental tests? Make a good impression on your date by doing these five things before the big evening arrives.
Clean Up (Not to Much)
Nothing is more of a turnoff than walking into a pigsty. A messy space shows you don't take pride in your home, and your date may question your personal hygiene as well. An unclean, messy and unorganized home can keep you from a kiss and a future relationship. Also, don't clean the place up so much that… more
Think It's a Good Idea to Have an Office Romance?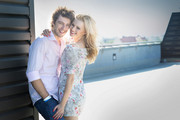 You think you spend a lot of time at work? You're right. The average Canadian spends 1,700 hours at work each year, according to Business Insider. You think it's a good idea to spend all those hours at work being in a relationship with a co-worker? Sure, many romances develop at the office.
A Career Builder survey shared that 38 percent of people surveyed had dated a co-worker at least once and 31 percent even married one. A Workplace Options survey found that almost 85 percent of employees between ages 18 and 29 would consider a relationship with a co-worker.… more
Hibernate or Cuddle by the Fire?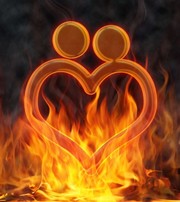 by Robin McGrath
It is that time of year again when all the leaves have abandoned the trees and the icy bite of winter's cold begins to sink deeper into our bones with each progressive temperature drop. Although there might be a tendency to want to hibernate, there is also an extra desire to meet someone (for those who don't yet have a significant other) to share the cold winter months with.
Because of the significant decrease in daylight, our serotonin (the happy hormone that regulates mood) levels decrease due to the amount of sunlight we are now… more
You Know You Want It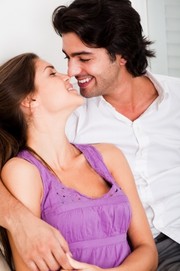 Part One
by Robin McGrath
Sex. With her. You know you want it but how do you get it? More often? And. so that she is as into it as you?
One of the greatest mysteries seems to be what women want and need to enjoy satisfying sex lives. It seems to be one of the top questions men ask about the subject.
Women are not as complex as men seem to think they are. They just have different needs. And when it comes to sex, women do not have an immediate on and off switch the way… more
3 Pillars of Relationships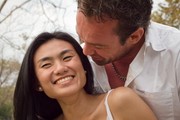 3 Pillars of Relationships
by Robin McGrath
If any part of a building's foundation is unstable, the building will begin to collapse. This same holds true for relationships. If pillars of the relationship begin to deteriorate the relationship will begin to crumble.
Three pillars of a strong, intimate, romantic relationship include:
1. Communication
2. Respect
3. Sexual closeness
Communication
Definitions of the word "communication" can range from: conveying (one-way communication) to exchanging (two-way communication) news, information, thoughts, and opinion. In a relationship, exchanging or two-way communication is critical. Both individuals need to feel that… more
Fake it Till You Make It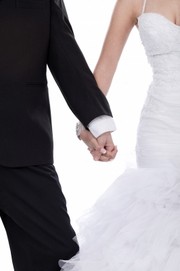 By Robin McGrath
Anthony Robbins teaches that emotion is energy in motion. In other words, if you're not in a good mood, put a smile on your face, act like you are and you will be.
Psychologist Richard Wiseman, of the University of Hertfordshire, studied this same behavior to determine if it affects your ability to fall in love. Is it possible that if you act as if you are attracted to someone you will fall in love with that person even if you initially were not attracted to him or her?
Dr. Wiseman tested his theory at a… more
What Men Do When They Flirt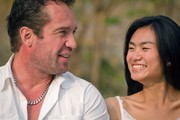 What Men Do When They Flirt - The Basics
by Robin McGrath
In a recent article, "What Women Do When They Flirt - The Basics" I discussed the most basic body language cues that women use when flirting as observed globally, across cultures, races, and religions. Human beings, like all creatures on this planet, are hardwired to keep the species going. For men and women this begins with flirting.
Flirting is one of the primal behaviours we engage in whether we are single or married. It is our way of saying, "I'm interested in you."
The most basic flirting… more
What Women Do When They Flirt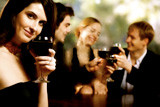 What Women Do When They Flirt - The Basics
by Robin McGrath
She saw him from across the room - tall, handsome, well dressed. He was surrounded by a group of other men. She couldn't keep her eyes off him. Finally, he glanced around the room and noticed her staring. He flashed a smile. She smiled back, raised her eyebrows opening her eyes wider. Then quickly, with a blush and a flip of her hair, she dropped her head, and turned to look away.
If you have ever done any reading or research on the basics of flirting, you… more
Are You Connected?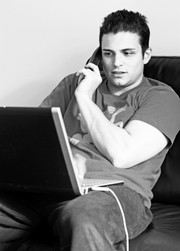 by Robin McGrath
USA Today dubbed the year 2010 as "the year we stopped talking to one another." Approximately 93% of us use cell phones or wireless devices to connect with each other. But are we really connecting?
I know I'm guilty of it: sitting at dinner with friends with my cell phone on the table ready to interrupt any conversation to check an incoming text. The sad thing though is that all of those friends are doing the same.
We are so busy connecting with each other electronically, thinking that we are more connected today than in past… more
I Wanna Hold Your Hand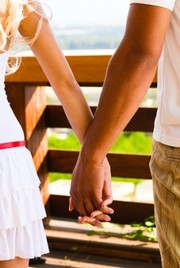 I Wanna Hold Your Hand
by Robin McGrath
We have all heard the expression, "actions speak louder than words". Kinesics, also known as body language, contributes to more than 55% of our communication. Our body language - our actions - tell others a lot more than our words can about how we are feeling. This is especially true within relationships. How we touch our friends, our family, and our lovers can speak volumes to them - much more than libraries full of beautiful, romantic poetry and prose.
One of these actions can be the way we hold hands with… more